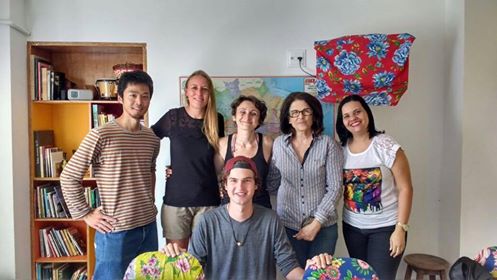 BrazilLink – Portuguese Language School in Barra, Salvador
BrazilLink is a Portuguese language school for foreigners, providing students with a learning experience that incoprates both the command of Portuguese, as well as great interaction with the brazilian reality. We have teachers with years of experience in teaching at universities and language institutions and studying in and outside Brazil.
BrazilLink – Portuguese Language School – works on all levels of communication. These courses are held all year. BrazilLink operates on a system of weekly enrollment, which means that it's possible to start on any Monday for a course of any length. From one week up to any number of months.
We can provide you a more meaningful and personal experience in Brazil. Knowing the Portuguese language makes that possible. From the start of the programs, students will be in contact with native speakers, within and beyond the classroom. There will always be many opportunities for them to learn to express themselves in a real-world setting. We also assist those of you who are interested in volunteering, offering an exchange that involves not only language but also the gratification of helping others.
Customized service – tailored to your specific needs
At BrazilLink you're not just one in a crowd. We really get to know our students and visitors, and treat each of them as an individual.
In your shoes
Cultural differences make social contact awkward. Our team has vast experience on working in a multicultural environment; you'll soon feel at home.
Well-organized
We have developed a database that contains all the information you need for your stay in Brazil. In addition to things like your schedule and classes, the database covers additional activities and personalized content such as certificates, documents and photos.
Local knowledge
Straightforward activities such as using public transport, getting a telephone number or buying an air ticket can be a challenge to anyone not used to Brazilian procedures and bureaucracy. Our team is here to help you.
Tailored to your needs
Everyone has their own wishes and requirements, which is why we offer a personalized service to our students. Our team enjoys the challenge and strives for excellence in all we do.